Our office is pleased to offer our patients passive self-ligating Damon Smile braces. Damon braces use a slide mechanism to hold the archwire, reducing the amount of pressure exerted on the teeth and allowing the teeth to move more freely, quickly, and comfortably. Thanks to these innovative new braces, achieving your perfect smile can be faster and easier than you ever thought possible!
Tie-less braces – A world without elastic ties!
Tie-less braces help reduce the amount of pressure being placed on the tooth and require fewer adjustments because there are no elastics to replace.

Damon Smile facilitates healthy tooth movement with complete control. By combining tie-less brackets and high-tech archwires, we can minimize discomfort and create beautiful smiles that last a lifetime.
Braces are the beginning, but the system makes the smile!
Damon Smile is not just about revolutionary braces and wires - it is a whole new way of treating patients!
Technology, Comfort, & Convenience
Damon tie-less braces eliminates the need for elastic or metal "ties." With Damon braces you can experience treatment with low-friction force, gentle movements, and less discomfort. Damon braces are designed to be more discreet, comfortable, and easy to keep clean than traditional metal braces. Additionally, clear Damon brackets are an option for patients who would like a great smile without sacrificing aesthetics.
Treatment Time
While the time needed in braces will vary from case to case, treatment time with Damon Smile is typically much faster than with conventional braces. Also, far fewer appointments are required during treatment, making your Damon experience convenient and hassle-free.
Clear (Ceramic) Braces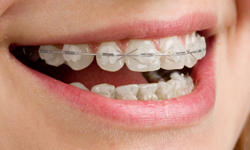 Ceramic braces are made of clear materials and are therefore less visible on your teeth than metal braces. For this reason, ceramic braces are used mainly on older teenagers and adult patients who have cosmetic concerns. While they are visually less prominent, they do require more attention to oral hygiene as ceramic braces are larger and are more brittle than their metal counterparts. For these reasons, ceramic braces tend to be used more on upper front teeth than on lower teeth.
Clear Aligners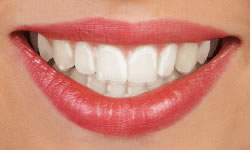 Clear aligners are a series of invisible, removable, and comfortable acrylic trays that straighten your teeth like braces. Not only are the aligners invisible, but they are also removable, so you can eat and drink what you want while in treatment, plus brushing and flossing are less of a hassle. The aligners are comfortable and have no metal to cause mouth abrasions during treatment.